Tech Ranch® is proud to have hosted over 100 amazing individuals as part of BlogathonATX 2015. We wanted to celebrate some of the excitement! Check out some of the pics, information and highlights below and start planning for next year!
What was it all about?
Since making its debut onto Austin's social media scene, #BlogathonATX® has taken the city by storm. It all started with a tweet in the summer of 2010, and has grown into the hottest ticket in town for both established and aspiring bloggers alike.
BlogathonATX is abuzz with lots of activity, so it helps to do a little planning up front. After you arrive and check in, we suggest you do a walkthrough. You'll find the large main room with tables and chairs filled with people chatting, blogging and networking or participating in one of the Q&A sessions that happen over the course of the day. Make note of this year's speakers, topics and schedule. (Pro tip: Q&A happens on the sofa—choose your chair accordingly.)
Special Features:
In the Tech Room, you'll find Eric Weiss, the ever popular alpha techie of Blogathon. Here you can get help doing anything from setting up your blog for the first time to tweaking your CSS.
Back by popular demand, the Room for Improvement is hosted by Julie Gomoll and her sidekick, Nando Cabán-Méndez. Sign up for your 15 minute time slot to talk site architecture and design. It's fine to just sit and listen in too. You can learn a lot this way!
Then there's the food. You really have to see (and taste) it to believe it. The folks at BlogathonATX understand that blogging takes energy, and we take that seriously. Austin's community of restaurants and other small businesses allows us to make BlogathonATX the best tasting event in town! As everyone knows, the heart of a home is in the kitchen, and if BlogathonATX is your home for the day, the food area is its heart. Bloggers are a friendly, funny crew, and the food area is a great place to take a break and make new connections with interesting people from all over central Texas and beyond.
Excellent photo of #BATX15 executive committee (@ileenieweenie @ImtheQ @ATXFoodNews) by Michael Yew! #BlogathonATX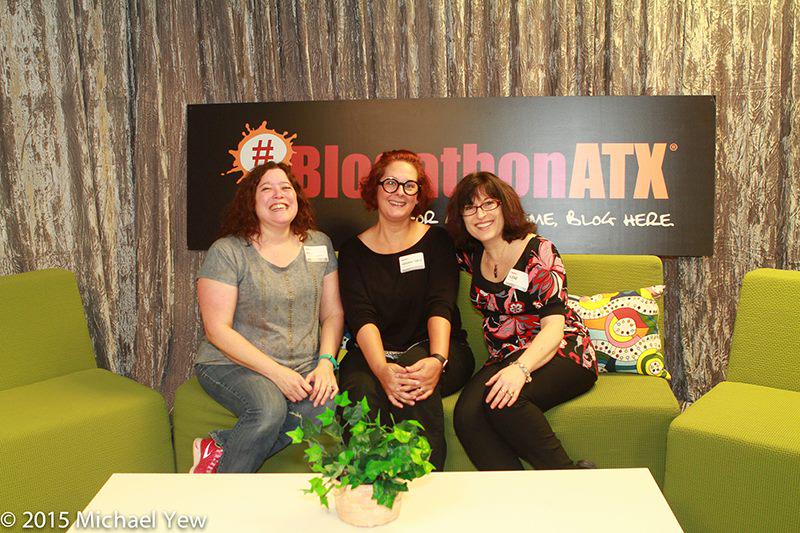 Who was Trending in the United States today? #BATX15, that's who!